"Suit Savvy :

Enhancing Online Presence with a Modern eCommerce Website"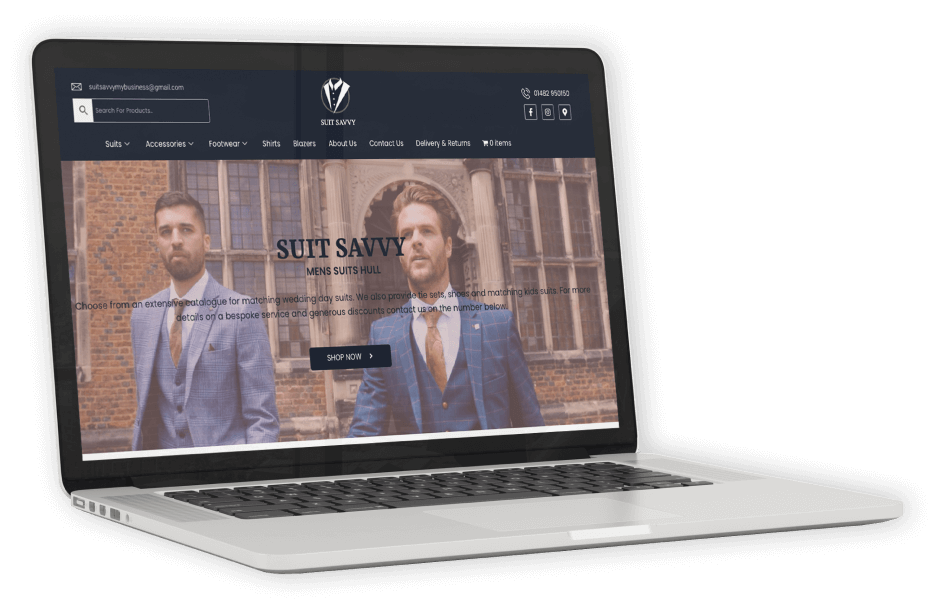 Suit Savvy is an eCommerce website based in the UK that offers men's suits, footwear, and accessories of different brands. The website aims to provide customers with the best shopping experience and high-quality suits at an affordable price. Suit Savvy specializes in wedding suits and offers amazing deals on suits, footwear, and accessories.
The Suit Savvy team approached us with a challenge to design and develop an eCommerce website that could showcase their products and make it easy for customers to shop for suits online. The website needed to be user-friendly, visually appealing, and offer a seamless shopping experience for customers.
After conducting a thorough analysis of Suit Savvy's requirements and target audience, we designed and developed a modern, responsive eCommerce website. The website was designed with the aim of providing customers with a seamless and hassle-free shopping experience. We ensured that the website's user interface was intuitive and easy to navigate, with clear calls-to-action for customers to browse products, add items to their cart, and checkout.
We also incorporated advanced search and filter features, allowing customers to find the products they need quickly and easily. We optimized the website's loading speed, ensuring that it loads quickly and efficiently, regardless of the device being used.
To enhance the website's visual appeal, we used high-quality images of the products, showcasing different colors and designs. We also added product descriptions and specifications, giving customers a clear understanding of the products they were interested in. We integrated the website with a secure payment gateway, providing customers with a secure and convenient checkout process.
The team Crecode worked closely with the client "Adam" throughout the development process, gathering feedback and making changes as needed to ensure that the website met the needs of the targetted audience of our client regardless of any errors and bugs.
Agile
4 weeks Sprint
Daily Standups
Woocommerce
Payment System
jQuery
The new Suit Savvy eCommerce website was launched successfully, and the results were impressive. The website has received positive feedback from customers, who appreciate the user-friendly interface, quick loading times, and high-quality images of the products. The website has also experienced an increase in traffic and sales, with customers now able to easily find and purchase the suits they need.
TurnWheel, LLC Health Coaching and Nutrition Counseling
"Abdullah from Crecode was professional from beginning to end with gaining understanding of website design and requirements. He went above and beyond with making sure the final product was not just meeting but exceeding expectations. He is knowledgeable of many industries and the competitive environment with respect to website functionality. I highly recommend Abdullah and Crecode if you need to create a competitive website that will drive you more business."